I can't exactly introduce myself, BUT I can give you a naughty excerpt 😉
---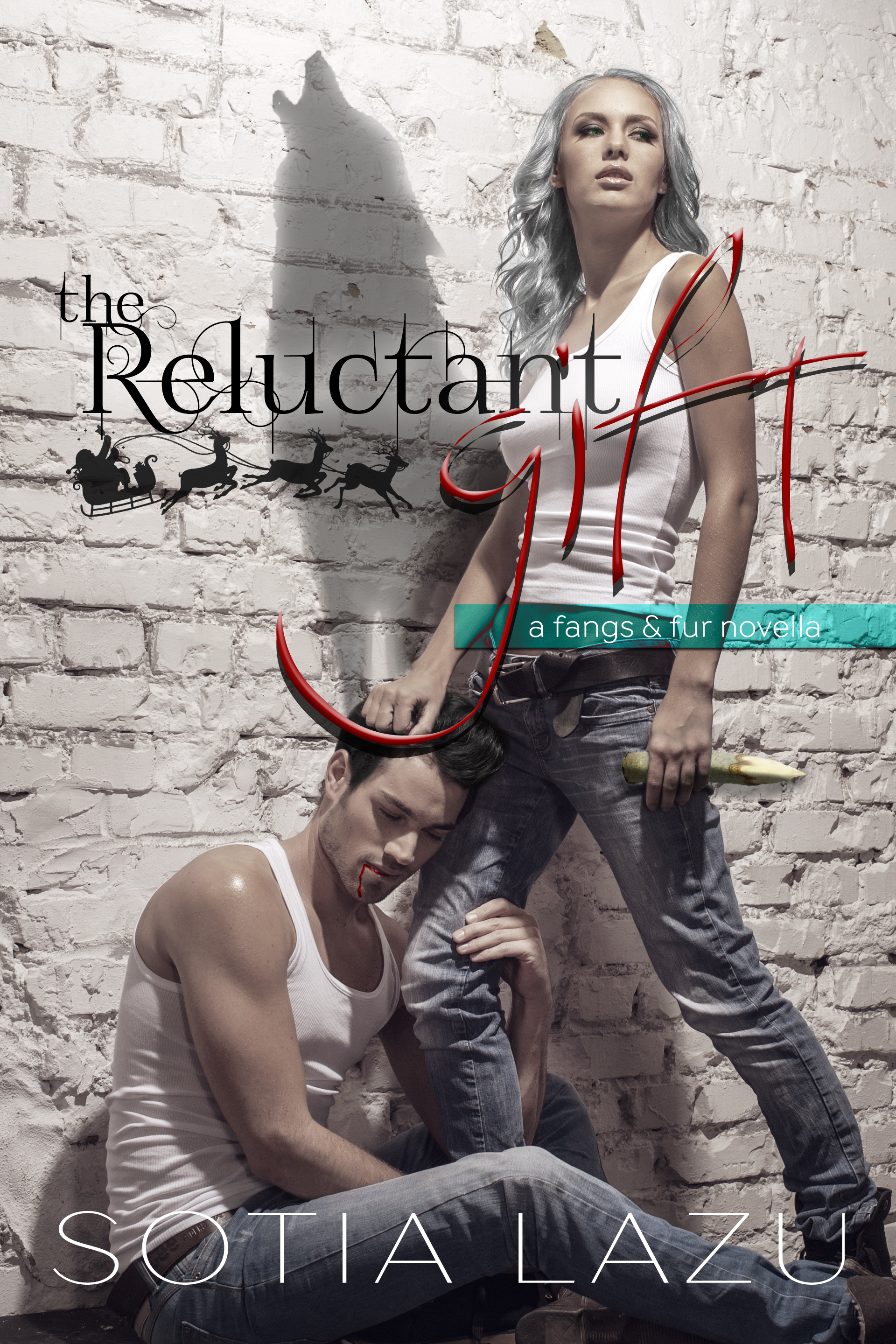 Salina has earned her one-year vacation on Earth, damn it! She's been an exemplary sentinel for her pack, and saved all the universes.
Too bad she hasn't been very effective at kicking Aherin to the curb. She had one little lapse in judgement—sleeping with the annoyingly persistent vampire—and now he just won't leave.
As if that wasn't enough, her holiday plans are spoiled, her world is turned upside down, and she's going to miss out on a yummy family dinner, all because she's kidnapped on Christmas Eve.
By Santa.
Excerpt:
She turned to fully face him, and he tensed in anticipation of her wrath. He was more than surprised to see a tiny smile play on her lips, as she glided a few steps closer. Close enough that, when she slid her hand between her long legs to cup her sex, Aherin saw her push a finger between her folds. He'd spent some time during their journey wondering what her pussy looked like, but he hadn't expected it to be completely bare.
"Are you coming in?" she asked. "It's divine."
He forced his gaze to the lake around her. It looked otherworldly, the dark waters, clear as a black diamond, reflecting the moonlight and odd patterns of stars hanging on this universe's skies. Then again, he was in a world other than the one he knew. He wanted to go in the water—a swim was all he'd had in mind before he'd seen her breaking the surface, tossing back her silver mane. Now all he could think of was getting inside her.
"I didn't know if you wanted to share." He stood and leaned against a tree. Was there a challenge in her eyes?
She shrugged. "It's a free world. Still. Thanks to us. I think we could reward ourselves with a little indulgence."
His sensitive hearing picked up the sounds of her sister and his best friend rutting like animals back in the cave. Maybe Salina could hear them too, though he wasn't sure how acute her shifter senses were in her human form. It wasn't the right time to find out. "Is this your idea of indulgence?" he asked instead. "A bath?"
She smiled, and took another step toward the shore. "Could be worse. At least I don't smell of blood anymore." She tilted her head to the side, arching the appetizing column of her neck. "Do I?"
"Can't really tell from here." He was lying. She smelled of the blood she'd shed, and her arousal, and Aherin didn't know which one drove him wilder with desire.
"Maybe you should come closer, then. Just to make sure."
Was she…flirting with him? He'd wanted her from the moment he'd laid eyes on her, but she had cut off his advances, and they'd eventually settled into spending their time together exchanging barbs and jibes. He'd accepted that he'd never have her and convinced himself he was all right with that.
The taunt in her eyes now looked too much like an invitation.
Aherin realized he'd untucked his T-shirt and unbuckled his belt. He forced his fingers to stop, before he also popped the buttons of his jeans. He needed to know what she was offering before he took the next step. "Careful what you wish for, little shifter. If I decide you smell delicious enough, I may eat you."
She grinned, and amber shone in the depth of her emerald eyes. "I'm the wolf, remember? I don't think you could eat me."
Author links: Twitter | Website | Blog | Facebook Page | Goodreads | Amazon Author Page