Blurb
In the year 2086, Zaphira is alone, the last survivor of biological warfare on Earth. Before he died, her scientist father promised other survivors would come. Nobody has. So when a horribly mangled android shows up claiming to be her father's assistant, Aiden, who has been sent through time to rescue her, she's both frightened and astounded.
The last time she'd seen Aiden, she'd been sixteen, head-over-heels in love with him and had literally thrown herself at him, leaving her devastated by his rejection and him running for the hills. The following day, she'd been told of his death.
Eight years later he's miraculously back, this time asking for her help. Without it, he won't survive. But can she really put a dead man back together with tweezers?
For Aiden, everything has changed. There are no other humans, no government, and time travel has left his new android body unexpectedly weak and suffering from inexplicable genetic changes in eye and hair color, brought about by his molecular shake-up. Unbelievably, the scientist who sent him is dead, and he must rely on the scientist's daughter to help him. A woman who he's not so sure has his best interests at heart.
The last time he'd seen her, Zaphira had been a sixteen year old with a dangerous crush on him and he'd been rocked by the turmoil of his own feelings. Now she's twenty four and literally holds his survival in her hands. Too bad everything he does and says seems to annoy her.
Trusting her might be his undoing. But he is left with no choice.
For Zaphira, getting used to the transformation of old Aiden to android Aiden requires a large mental leap. But when android Aiden starts to rebuild his human form to a new and improved standard, things start to get tricky.
The Aiden she loved as a little girl was her father's nerdy assistant. The new Aiden is hot. But are her feelings as strong eight years later or are they simply a cherished memory?
Excerpt
Prologue
She narrowed her eyes and squinted at the skinny geek stumbling backward out of the passenger seat of her father's car. She'd waited all day for the rumble of the engine of her daddy's convertible. The old car had a distinct stutter and a sly rev she fantasized was because it had a mind of its own.
She smiled awkwardly, her mouth pulled tight across her braces and she pressed her fingers over her top lip to stop it from catching on the edge, rolling and making her look like a feral cat. Her face ached. They'd tightened the braces again and it hurt so much more this time. The smile dropped from her lips only to ping back up again as the geek caught his shoe on some piece of equipment in the foot well of her daddy's car. He flipped backward, his gangly arms pin wheeling until he landed on his ass on the floor, minus his shoe.
He whipped his head up and she stepped back from the window hoping he hadn't heard her girlish giggles. He wouldn't be impressed. He was so much older and more mature.
Not many would believe he was twelve years her senior. Not with his thick russet hair falling in a boyish flop over his forehead, his fine gold-rimmed glasses perched right on the end of his nose.
Her heart fluttered in her chest as she chanced another peek.
His arms full of equipment, flushed to his hairline, he staggered toward the front door of her home. Adrenaline pumped hot through her veins. She took a few skips toward the hallway, ran back to the window to see her father's car pulling away from the curbside. Her mother was out. She was the only one there to open the door. She darted back, hesitated, her pulse thrumming in the base of her throat.
A dull thud shuddered the door in its frame and she shot forward, wrenched it open before he did any further damage. His shoulder slid across the oak panel and he shot sideways through the entrance, his skinny limbs racing to keep up with the speed of his body, but to no avail. His foot skidded and down he went. The clatter of laboratory equipment skidding across the wooden floor filled her ears as did his quiet Irish curse.
"Bollocks."
Stifling another snigger, she crouched to help, casting furtive little glances at him as he came to his knees, straightened his waistcoat and touched his fingers to his bow tie, ensuring it was still there.
"Hi Aiden."
His deep frown almost made her stutter, but she knew he couldn't sustain his annoyance. His small nervous cough made her smile.
"Hey." The sound of his soft, smooth voice made her light-headed and she stopped what she was doing to gaze deep into his eyes.
He pushed his glasses further up his nose and glared at her. Unperturbed, she met his beautiful gaze with a lovesick one of her own.
"Do you need a hand down to the lab?" He dropped his gaze to her mouth. Her speech lisped embarrassingly through her clenched together teeth. She hated her braces, couldn't wait to have them removed.
"No."
Not wanting him to go yet, she piled another few items on top of the ones already in his arms and resisted the urge to stroke her fingers along the sleeve of his tweed jacket.
"Can I get you a coffee?"
"Zaphira…" he sighed, "Thank you, but no. I have work your father wants me to complete. I don't want to be disturbed."
Her chest ached. Just a little. The same as it always ached when he rejected her offers.
She bent to pick up Paco, her new puppy, snuggled her face into his thick fur and took comfort from his squirming, plump body as she hugged him close and let him lick sweet kisses across her chin.
Aiden paused at the lab door then glanced at her over his shoulder and her heart hitched again. There. It was there, the glint in his eye. The one that told her every time she was about to give up that there was a spark of interest. There was hope.
Buy Links for Short Circuit Time
Amazon.com | Amazon.co.uk | Kobo | Barnes & Noble | All Romance Books
Where to Find Diane Saxon
Author Website | Author Blog |Facebook | Author Twitter |Goodreads Author|
About the Author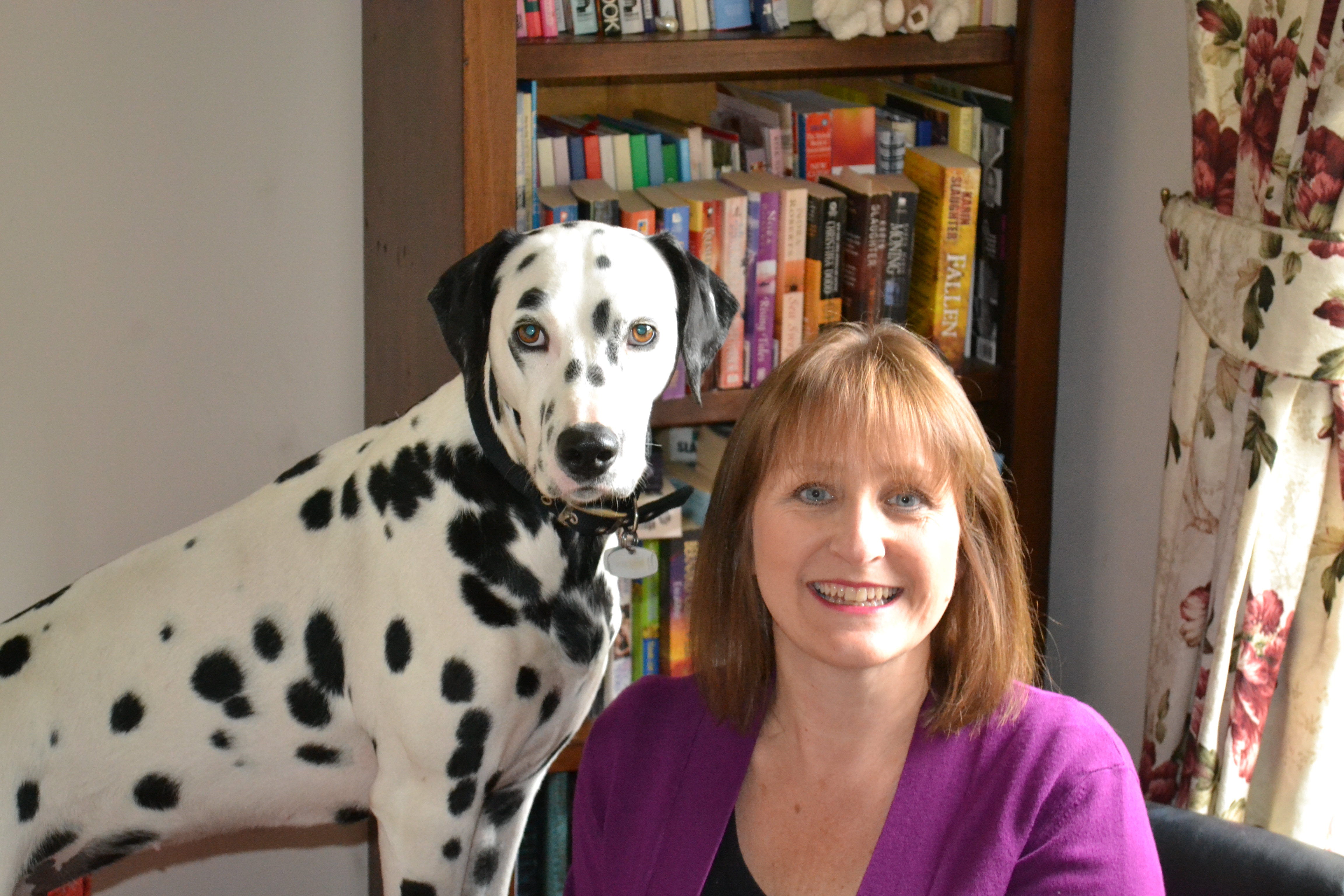 Diane Saxon lives in the Shropshire countryside with her tall, dark, handsome husband, two gorgeous daughters, a Dalmatian, one-eyed kitten, ginger cat, four chickens and a new black Labrador puppy called Beau, whose name has been borrowed for her hero in For Heaven's Cakes.
After working for years in a demanding job, on-call and travelling great distances, Diane gave it all up when her husband said "follow that dream".
Having been hidden all too long, her characters have burst forth demanding plot lines of their own and she's found the more she lets them, the more they're inclined to run wild.
Previous Books:
Loving Lydia -Atlantic Divide Book 1
Bad Girl Bill – Atlantic Divide Book 2
Finding Zoe – Atlantic Divide Book 3
Flight of Her Life
Flynn's Kiss – Disarmed & Dangerous Book 1
For Heaven's Cakes – Paranormally Yours Anthology