COMING DECEMBER 5th, 2014
Seven of today's hottest paranormal authors come together to bring you a boxed set guaranteed to keep you warm on a cold winter's night. Do shifters make you howl? Or do you prefer the bite of a vampire? Perhaps the controlling hand of a demi-god is more your style. Paranormally Yours has a story—or seven—to set your pulse racing.
Scroll all the way to the bottom, for the awesome trailer BY Sofia Grey!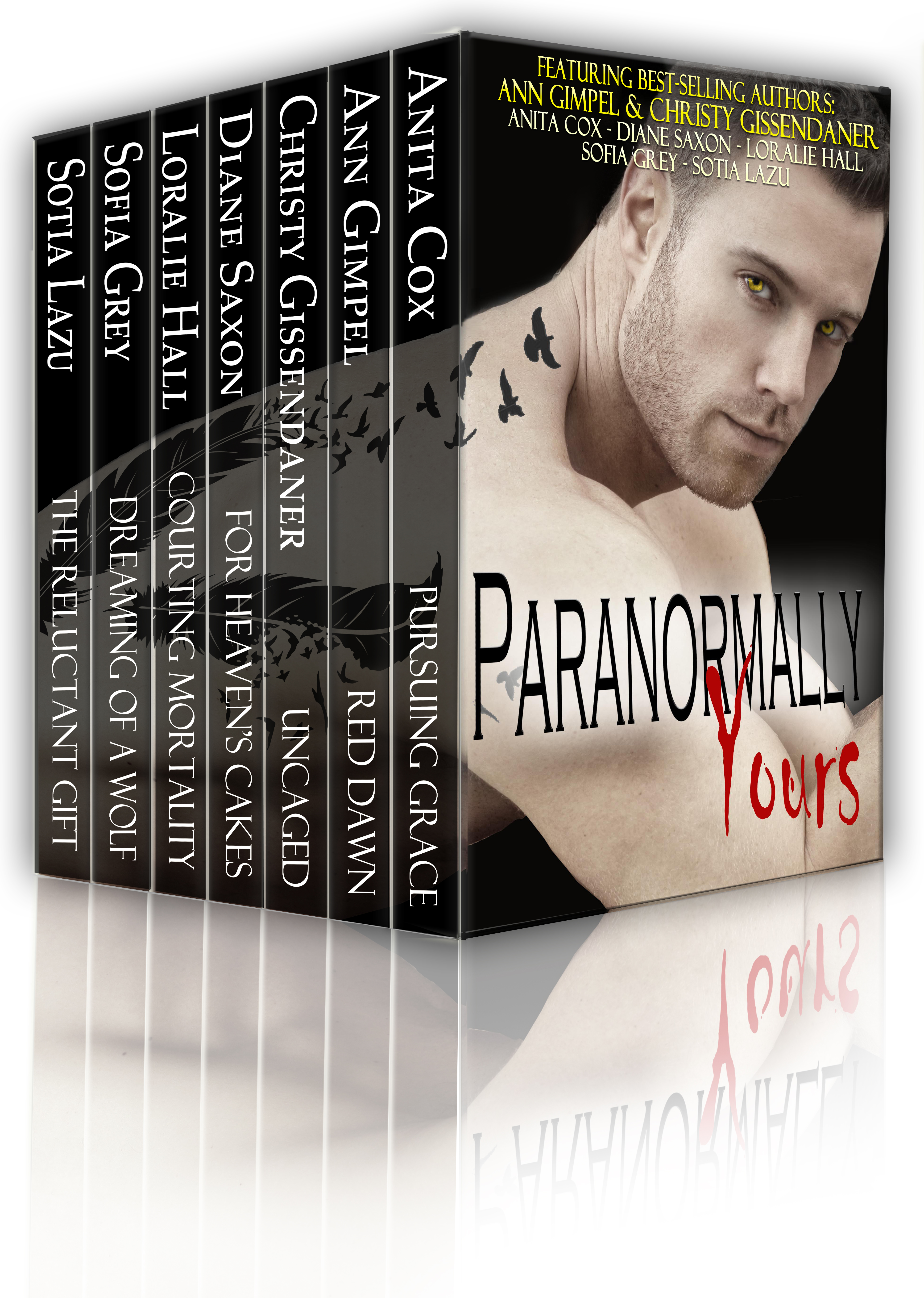 The Reluctant Gift by Sotia Lazu
Salina has earned her one-year vacation on Earth, damn it! She's been an exemplary sentinel for her pack, and saved all the universes.
Too bad she hasn't been very effective at kicking Aherin to the curb. She had one little lapse in judgement—sleeping with the annoyingly persistent vampire—and now he just won't leave.
As if that wasn't enough, her holiday plans are spoiled, her world is turned upside down, and she's going to miss out on a yummy family dinner, all because she's kidnapped on Christmas Eve.
By Santa.
Author links: Twitter | Website | Blog | Facebook Page | Goodreads | Amazon Author Page
Dreaming of a Wolf by Sofia Grey
Alun was Olivia's first, and he was supposed to be her forever. After a tragic accident steals him away, Olivia wonders how she can ever be whole again.
When he starts talking to her in her dreams, she has to ask herself: is she going mad with grief, or is there still a chance for their forever?
Catch me blogging with Allyson Lindt at www.GeminiGirls.com
Goodreads | Facebook | Pinterest | Twitter | Amazon Author Page
Red Dawn by Ann Gimpel
Llyr is a whale shifter with a big problem. The seas are dying, poisoned by heavy metal contamination and barrels of trash. In a bold and desperate move, he and his mate Galatea, the Sea Witch, hatch up magic to allow him to spend as long as he needs to on Earth.
Masquerading as a marine biologist, Llyr signs on with a firm whose mission is to save the oceans. When his boss turns out to have malevolent underpinnings, Llyr returns to the sea for answers. With death lurking behind every corner, he and Galatea find themselves boxed into an impossible situation.
Author links: Twitter | Website | Blog | Facebook Page | Goodreads | Amazon Author Page
Courting Mortality by Loralie Hall
Eli's spent eternity thwarting the same family curse that granted his brother, Loki, ever-lasting fame. Eli kind of got screwed in that one. His plan to stay single and detached has worked for several millennia. And then he meets Marley. She's making him abandon all his resolutions, except the one that never lets him forget the curse. Falling for her means her death, and he won't let that happen.
Author links: Twitter | Website | Blog | Facebook Page
For Heaven's Cakes by Diane Saxon
Twelve years of living in Ireland smoothed Beau's rough edges, and hard work as a construction worker made him a wealthy man. The call of his pack is stronger than he can resist though, and he isn't averse to returning to show his small home town in America what he's made of himself.
What he doesn't anticipate is meeting the local pharmacist's daughter – in his wolf form. By day, he renovates the pharmacy, and tries to cajole the lush assistant into having dinner with him. By night he watches Catherine bake her fantastic creations and blossom through her art.
Sleeping on her bed each night in his wolf form isn't exactly ideal, but how does he tell her the wolf she's come to love, is the man she lusts over?
Author links: Twitter | Website | Blog | Facebook Page | Goodreads | Amazon Author Page
Uncaged by Christy Gissendaner
Mixed breed vampire shifter, Gabe Moncrief, has made a name for himself in the Cage, an arena where only the strong survive. He's training for the fight of his life–and vengeance–when Rain Pettis appears. As an Elemental – a supernatural being descended from Zeus himself – she holds the key to his future in the Cage.
As much as she loves her brothers, Rain needs to break away from their overwhelming influence to become her own person. Gabe is the only shifter capable of standing up to them. But when Rain learns a secret that tests her loyalty to her family, she has a decision to make. Does she risk it all for love? And can she bear watching Gabe endanger his life within the Cage?
Author links: Twitter | Website | Facebook Page | Goodreads
Pursuing Grace by Anita Cox
Though Grace McGovern just graduated college, she's restless, has no idea what to do with her life and to top it off, she finds herself single and unsatisfied with relationships in general.
Roman intends to claim Grace and make her his mate and part of his pack. He's searched for her for five years and now she's within his longing grasp, apart from one minor problem. She has no idea she's a wolf.
As Grace tries to identify and cope with her inner wolf, she also needs to figure out the unprecedented and undeniable pull Roman has on her. Could he finally offer her the fulfilling relationship for which she's been yearning?
Author links: Newsletter | Website | Blog | Facebook Page | Amazon Author Page | Google+